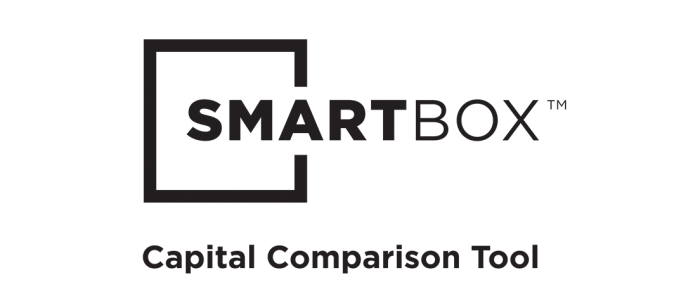 The SMART Box™ Model Disclosure Initiative
In June 2016, the three largest online small business lending platforms and a leading national non-profit microfinance trade association joined forces with other leaders in the space to create an industry-first model pricing disclosure focused on empowering small businesses to more fully understand and assess their small business finance options.  The result of this effort was the development of the SMART Box™ – which stands for "Straightforward Metrics Around Rate and Total cost" – a comparison tool intended to foster common verbiage and enhanced disclosure standards around a comprehensive set of pricing metrics.  The SMART Box includes clear and consistent pricing metrics, metric calculations, and metric explanations to help small businesses understand and assess the costs of their small business finance options.
For capital providers interested in adopting the SMART Box, click here to learn more
It is important to note that the SMART Box is not intended to replace a lender's existing disclosures or detract from the importance of providing clear and conspicuous information to a small business regarding the relevant finance product.  The SMART Box is instead intended to serve as a supplemental disclosure that presents key pricing information in a uniform fashion and helps to flag for the small business, in plain English, certain product features or policies.
We ultimately believe that there are many responsible providers and products in the market, but these products often convey their pricing characteristics in different ways.  The SMART Box brings a common disclosure approach to these products to help a small business make a more informed decision, including with respect to the product's fit for a particular business need or use-case and how the product compares to other finance options being considered by the small business.
In order to develop the SMART Box, we launched a 90-day national engagement period over the summer of 2016 focused on fostering an open dialogue with interested lending platforms, trade associations, policymakers, non-profit organizations, small business advocates, and small business owners.  The feedback we received helped to inform the final disclosures.
The SMART Box model disclosure will be made available through a license for voluntary adoption by capital providers focused on further empowering small businesses.  All authorized adopters of the SMART Box will be required to sign an attestation form confirming their adherence with SMART Box principles and requirements, including the requirement that they agree to have a third-party validate the methodology the provider uses to calculate certain pricing metrics, such as APR.